Men are tricky ones to buy for. It can't be too trendy or too conservative. They don't want you to spend too much money on them…..or they will take it back. Here's an edited selection of Holiday Gifts that might make your shopping a bit easier this year. Due to these hard financial times I have gifts for all price points……..including coupon codes for additional savings. If you don't see a code you are looking for…..be sure to check my Stylish Savings Section for Website codes that are updated daily. I hope you enjoy this special edited guide for "him." Get ready to shop for the perfect gift for the man in your life!

$50 and
under
The Wine Enthusiast!
We have all been there……..at a restaurant enjoying a delicious bottle of new wine………..we scribble the name on a napkin or put the cork in a handbag or suit pocket. Neither the cork or the napkin can be found in the morning. Enter Graphic Image and their Crocodile Leather Wine Notes Post Miniature! At only 2.75 x 3.75 in size, it will fit into any wine lovers pocket. He will look like a connoisseur with this handy leather book for notes. $22.50 at graphicImage.com Make it more special with personalization for an additional $7.50.
Who is it for? Wine enthusiasts………Business Men…….A Great gift for Business Associates………Teachers!
SCORE!
What do big and little boys love more than toys? Sports! The Porsche Multi Use Sports Ball is as sleek as a 911 Turbo! Suitable for Soccer Volleyball and Basketball for $35 at porsche.com/usa
Who is it for? Porsche enthusiasts………Sports players of all ages!
If he dreams of seeking fame and fortune on The World Tournament of Poker, he will appreciate Assouline's Poker Book Special Edition. It is a reference book with astute tips and strategies. You will find answers to your probing questions and more. The book is great tool for the poker player to master his game. $50 at assouline.com
Who is it for? Gamblers……..Poker Players of All Ages……..Those Planning a Trip to Vegas!
The Next Big Deal!
Everyone knows that exchanging business cards may be the key to the next big deal. He'll make a big statement with this little Gents Hinged Business Card Case! Made of Stainless Steel. $14 and available at RedPigGifts.com

Save an additional 20% Off with Coupon Code: WEADORE Expires: 02/12/09
Who Is It For? Business Men of all ages…….Hip Guys…….Great Co-Worker Gift!
BURN BABY BURN!
Pathways 10 Pack of Blank DVD's will add some style to his DVD collection! They are silkscreened in 5 colors with 120 min. of video. $17.50 at supermarkethq.com
Who Is It For?……… Anyone who burns their own DVD's!
$100 and
under
Traveling Man!
Here's a new take on the old Dopp kit. Malcolm Fontier has designed the Bahia, a modern looking accessory bag for all of his necessities. $65 at Malcolmfontier.com
Save an additional 20% off this great bag or anything on the site with Coupon Code: Deb Expires: 12/31/08.
Who Is It For?………Any Man who travels……..College students!
The Cool Life!
The A – Z of Powder, Golf, and Cool is all he needs to find his own coolness. Three books with A- Z listings and information on the hippest places to be for golf, skiing, and well…..cool destinations. There are even web addresses so he can start planning his next big getaway from home. Give this gift and maybe he will take you along! $65 at Violet.com
Who Is It For?………Any Man who travels……..College Students planning spring break……The boss……Golfers……..Skiers!
MAGNIFY!
Most guys (and gals) over 40 are a bit sight impaired. This good looking magnifier will be a useful tool at home or office. The Valence Horn Magnifier offers 5X magnification and is made of sheep horn. $52 at JaysonHomeandGarden.com Save 20% on this item and anything on their site with Coupon Code: INSTYLE08 Expires: 11/30/08
Who Is It For?………Men over 40………A Great gift for the boss or co-worker……….Beautiful client gift!
Daddy Dearest!
Perhaps one of the most clever and useful gifts of the season! The Dad Diaper Vest will send Dad and Baby packing with ease and style. It holds all of the essential Dad gear without him carrying that pink or blue diaper bag! Celebrate his fatherhood and your "Me time" with this great gift!
$78 at calliopeboutique.com

Who Is It For?………..Dad's of new babies………
Rack Them!
If they have tunes……they need this! The CD rack, designed by Sojiro Inoue, is a sleek and contemporary component for any guy with a CD and DVD library. Made of steel in a great color…. it will hold 75 CD's. It is a wall-mounted unit and a great way to save on precious real estate in small spaces. $75 at alphabetsnyc.com

Who Is It For?………Great for offices and college dorm rooms………Perfect for small space apartment dwellers!
TOOL TIME!
Here's a handsome set for the man in your life.  Heavy gauge with leather handles……the set has 4 pieces including a leather encased tape measure.  Pieces can also be purchased separately.  Set $97 at the fabulous Stanley Korshak's in Dallas.  StanleyKorshak.com
Who Is It For?………The D.Y.I. Guy
$150 and
under
Card Him!
From the famed UK designer....Paul Smith……is a great Pinstripe Card Case. Fear not, these are not your Father's pinstripes. Done in Paul's signature multicolored stripes this case is shiny and polished. Made in Italy. $140 at Eluxury.com
Who is it for? Hip guys of all ages……….
SLOPE STYLE!
Oakley offers a tricked out Ski (or snow) Goggle endorsed and designed by Skiing Icon Tanner Hall. The metallic black frames are as sleek as Tanner's iconic style. Inspired by Tanner's music and lifestyle, the straps are decked out with Rasta Flag Stripes and The Lion of Judah. Way cool! Of course, the goggles also feature the Lightweight O Matter frame with flexibility and comfort. $135 at Oakley.com

Who is it for? Skiers of all ages!
TIME FOR CHANGE!
The Alessi Tanto x Cambiare, designed by Franco Sargiani, is a new Alessi watch. The contemporary details include an unique display, mineral glass crystal, and water resistance to 3 ATM. I think this is a cool looking watch for the $140 price tag. watchismo.com
Who is it for? Boys from 16 -96……….Men who enjoy contemporary style…….Men who like the color blue
COOL TUNES!
Keep warm while chilling out skiing or snow boarding! The Kombi IRIP Ski Glove allows him to have IPod wireless convenience while out and about. No more dropping a glove or unzipping the jacket to change songs and tracks. Attach the IPod to Kombi's wireless transponder……..and it's a music filled day on the slopes! $150 at skicenter.com
Who is it for? Cool Dudes……….Snow Boarders……..Skiers!
He Wants!
So he has an IPod. I bet he doesn't have a cool case like this to stow it away. WANT'S luxury leather and suede case is inspired by vintage cigarette cases. With it's lightweight aluminum frame and sleek styling, the case offers full access to all IPod features. Other style elements are laser-engraved signature, business card holder, and a strap. Available in 3″ x 4 7/10″ x 0.9″ (fits old 30GB and new 80GB models) and 3″ x 4 7/10″ x 1″ (fits old 80GB and new 160GB models) $125 Vivre.com
Who is it for?……….Anyone With An IPod……..Cool Dads………Hip Guys!
EmPOWER HIM!
The Sanctuary will power up his life. It hides cables and charges a selection of over 1500 electrical devices……..think IPod, Mobile Phones, Blackberries, PDA's, Bluetooth Headsets and so much more! All you need is the perfect spot to plug in this sleek little unit to organize his life! $130 at Charlesandmarie.com
Save an additional 25% Off this item and anything at CharlesandMarie.com with Coupon Code: luckybreaks2 Offer Expires: 01/04/09

Who is it for?………….Anyone with power needs!
FIVE CARD STUD!
Juicy Couture's Dirty English Poker Set is perfect for the stud in your life! All of the necessities for a game of poker are included in this logo embossed wood box. $145 at nordstrom.com
Who is it for?……………. Gamblers……..Poker Players of All Ages……..Those Planning a Trip to Vegas!
Laptop Luxe!
One of the finest Laptop Cases I have seen this year……..WANT'S Leather Computer Portfolio Case. It is sleek and streamlined just like the laptop he carries. A refillable notepad, pen, phone, and stationary pockets are included. Signature gold and silver zip closure. Sweet! $475.00 at Vivre.com

Who is it for?……….Anyone With A small laptop……Cool Dads………Hip Guys………Business Travelers!

ICE HOT!
This gear bag is hot! Designed as a sports bag to keep winter sports equipment toasty warm. The Hot Gear Bag plugs into any wall outlet or any automobile's power socket. There are compartments for clothing boots gloves and thermals. Straps are included for using it backpack style or carrying it by carry handles. Outside pockets will keep the water bottle and goggles cool and near by. A cool idea for a sporty hot guy. Available at Rei.com $159
Who is it for? ……….Men who ski………….Boys who ski…………Ski Instructors……….Snow Boarders…….Construction Workers!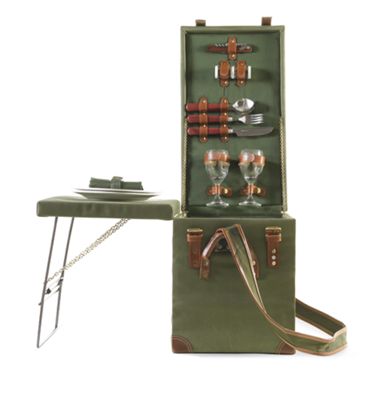 Tailgate Time!
Design Within Reach has a terrific table and picnic set that has tailgate written all over it!. Called the Picnic Trunk….. it really is perfect for outdoor dining. The interior is well planned with a table that extends to serve his feast (that you probably prepared). Made of durable canvas it comes with a carrying sling. It is tricked out with 2 melamine plates napkins flatware corkscrew and salt and pepper. All he needs to supply is the beer and brats! $200 Dwr.com

Who is it for?…………..Bears Fans……….Notre Dame Fans………..All Sports Enthusiasts……….Hunters……Road Warriors!
Hip-i-fy Your Guy!
Guys have to be comfortable. They bawk at trendy style. Inside they really do care about the way they look. James Perse Los Angeles makes the best cotton knits and tee shirts. We girls have known that for a long time. The tops feel like second skin in 100% Cotton. Need I say comfy? The Contrast Band Zip Up is hip to the max without being too trendy. $175 at Jamesperse.com
Who is it for?………..Men young and old………Men in warmer climates……..Men going on a Winter Vacation!
If you are looking for some good ideas for Kids this Holiday season click here
There are some great things for the women in your life…at all price points…here
And if a Couple is on your gift list……The Guide For Couples can be found here