Who can resist a sweet baby girl or boy sporting a spiffy hat? The traditional baby bonnet that ties under the neck has been replaced with stylish designs to accessorize the trendy clothing babies are wearing today. I think they make fun gifts that are sure to receive many ooh's and ahh's when received. Take a look at these totally wonderful haute hats.
Nothing is sweeter than a baby girl wearing pink and black! The hat is cotton and the flower is embellished with a crystal little gem. Sold exclusively at pinkbowtique.com for $25.
Kate Mack's Tutu Cute Amazing Pink Sun hat…is just that…..too too cute! Available for infants – 6X for $24 at adorableschildren.com
Surprisingly this beautiful little hat had no description at all. Perhaps this is one of those cases where a picture is "worth a thousand words." At any rate…..The Heirloom Hat is so precious. I bet that the lace is antique. It would make a lovely baby gift for $45 at PoshTots.com
Perfect for Valentine's Day! The Alivian crocheted hat with velvet flower fits from infants to teens. Precious! $37.50 at alivian.us
This boy's Linen Hat is just too cute! Won't he look dapper when out and about! Available in sizes 6 months – 4T for $30 at PoshTots.com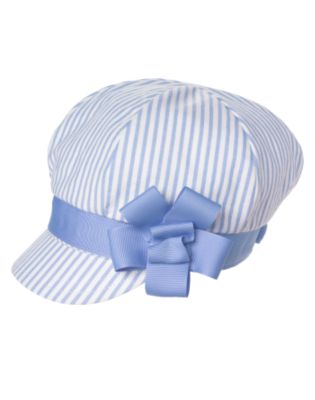 A girlie little newsboy cap that is trend inspired.  Done up in a periwinkle stripe with grosgrain ribbon…..it is simply adorable!  Available for sizes 0 – 6 months to 5 T for $18 at JanieandJack.com

Oh how chic! A silk cloche for baby. Handmade and embellished with blooming bright colors. Perfect for that Kodak moment. $32 in sizes 0 – 3 month or 6 – 12 months at Dimplesanddandelions.com
These great bucket hats come in an array of cool colors! Better yet….they can be personalized and embellished with your choice of two patterns. Available in sizes 0 – 6 months – 3T. $20 for white and $21 for all other colors. makristababy.com
For the Royal Baby Girl! Tell the world she is the princess with a monogrammed floppy hat emblazed with HRH….for Her Royal Highness. It comes presented in a lovely hat box. $16 at shopbriarpatch.com
Sweet as a Summer day! Hand crocheted by Daylee Designs…..the flower and ladybug are precious…..and will protect baby from harsh sunlight…..while looking stylish. $24 at aclassictale.com
Save 10% off at AClassicTale.com with Coupon Code: debreaders10 Offer Expires May 1st. Get Free shipping on all orders over $49.99

Sugar and Spice! Sweet for Spring. Made of 100% cotton so it will be as comfy as it is cute. $12 at oliebollen.com
Flowers on delightful denim make this bucket hat perfect for Spring! The flowers are silk and sensational. Available in three sizes for $24.50 at peasoupaccessories.com
Bella Bling designs some adorable little hats for babies. I love the Flower Fairy hat for it's softness and feminine style. $19.95 at jenklairkids.com
Imagine the Kodak Moments with this little white Cotton Tails crochet hat with flower! $22 at SouthernClayBabies.com
Another fab Jamie Rae hat! this raspberry confection is made of soft velvet and is just stunning. $30 at YoungandStylish.com
Play Ball! For sporty babies, these little sports hats are too cute. The little Soccer Ball Hat is a delight in black and white, and comes in a variety of other colors. The Baseball Hat in all American Red, White, and Blue, is also available in several colors. Made of 100% combed cotton. They just look soft and sweet. Both hats are $18 at StylishBabyGear.com
They call it Puppy Love…….and isn't she lovely? Of course the must have accessory for girls of all ages is a chic doggie, and this little Posh Poodle Hat has lots of them, all adorned with Swarovski crystals. Simply posh and handmade by Bella Bling. Found at CoutureBabyboutique.com for $36 including a wonderful hat box. $26 without hat box.
Save an additional 5% Off everything at CoutureBabyBoutique.com with Coupon Code: cbbnw5 Expires December 31st 2009
If your baby gift requires nothing but the best……this may be your ticket to the perfect gift! The Regina Pink Crochet Hat is tiny finery, Pink with multi-colored flowers, a little frou frou on top , and handmade in Italy…what more could a darling diva want? $69.95 at starspangledcarousel.com
Safari time! This little unisex set is just too sweet but in urban colors…….. not too, too sweet. Baby will be hip and trendy and protected from the summer sun. The Angel Toes Hat alone is $32.50. Hat and Booties Set $65.00 at poshbaban.com
Can't decide what hat to buy? At $4.50 why not buy them all? These cool and colorful Zutano Hats in Candy or Primary Stripes are just the best. Zutano known for their wonderful cotton and colors in baby and toddler clothing, is a wonderful and affordable line for contemporary babies. These adorable hats can be found on sale at LaLaLing.com
Cheetah Chic! Could you just die? The Orange Silk Cheetah Hat is handmade with silk, cheetah fabric, and embellished with a precious orange flower. Baby love! $32 at dimplesanddandelions.com.
Soft and Sassy, the Minky Hat with Ribbon, is irresistible! Known for their fabulous blankies, Minky has created a haute hat from the same soothing fabric. Baby will love it! $13 at Comfymunchkins.com
20% Off
Coupon Code: deb01
Expires: 12/31/08
(ComfyMunchkins.com E-mail)
Hip Baby Boys, will rock their world with the Sourpuss Jeff Hat! Trendy with a capital T, Vintage in style, but contemporary chic, the "grandpa" style hat is just over the top cool! $21 at psychobabyonline.com.
Simply fabulous! Roslyn's Yellow Shabby Chic Hat couldn't be any sweeter. Adjustable to fit newborns to toddler 2. The colors of spring will adorn your sweet little thing. $20 at roslynscloset.com

For the Rock Star or Biker Baby, this hip and studded little beanie is just too cool for school! Available at 2SweetSisters.com for $27.95.
Here's an adorable pink beanie trimmed with a beautiful chocolate and pink printed ribbon. Simply delightful and $25 at Dimplesanddandelions.com
Well! Isn't this special? Your little one will turn into a Winter Fairy when wearing this beautiful ivory fur and lace hat. Imported from England and $30.00 for sizes 3 – 9 months at Thetrendybebe.com
Seal her with a kiss! The Pink Axle Pink Lips Beanie is 100% cotton and 100% adorable. $18 at urbanyoungster.com
Crown her the Birthday Princess! She will feel like one wearing this little tiara with marabou, lace, and satin ribbon. Please take a look at the site for the delicious looking rear view of this pretty party hat. Was $44 and now is $28.99 at sophiasstyle.com
It's their birthday and they can have their cupcake and wear it too! So cute and yummy is the pink chocolate birthday hat! Covered in bridal satin with padded lining……it can be made in custom colors to match the party. $36 at beninibug.com
What a fancy little hat for the Birthday Girl! Chic Cheetah Print is blooming with style and flowers! Handmade and exclusive to Dimples and Dandelions. $36 dimplesanddandelions.com



More to Come Soon!