Let's face it. Nobody knows what a girl wants more than another girl. I have put on my girlie thinking cap and started shopping for you and I. Enjoy the collection.
You may also want to check out my new Gift Guide 2008: For Her!
If you are having a girls lunch…....Vera Bradley has a pretty table favor.  The Raspberry Fizz Note Cube features a lovely pattern with coordinating sheets (600) of note paper.  Now on sale for $12 each at VeraBradley.com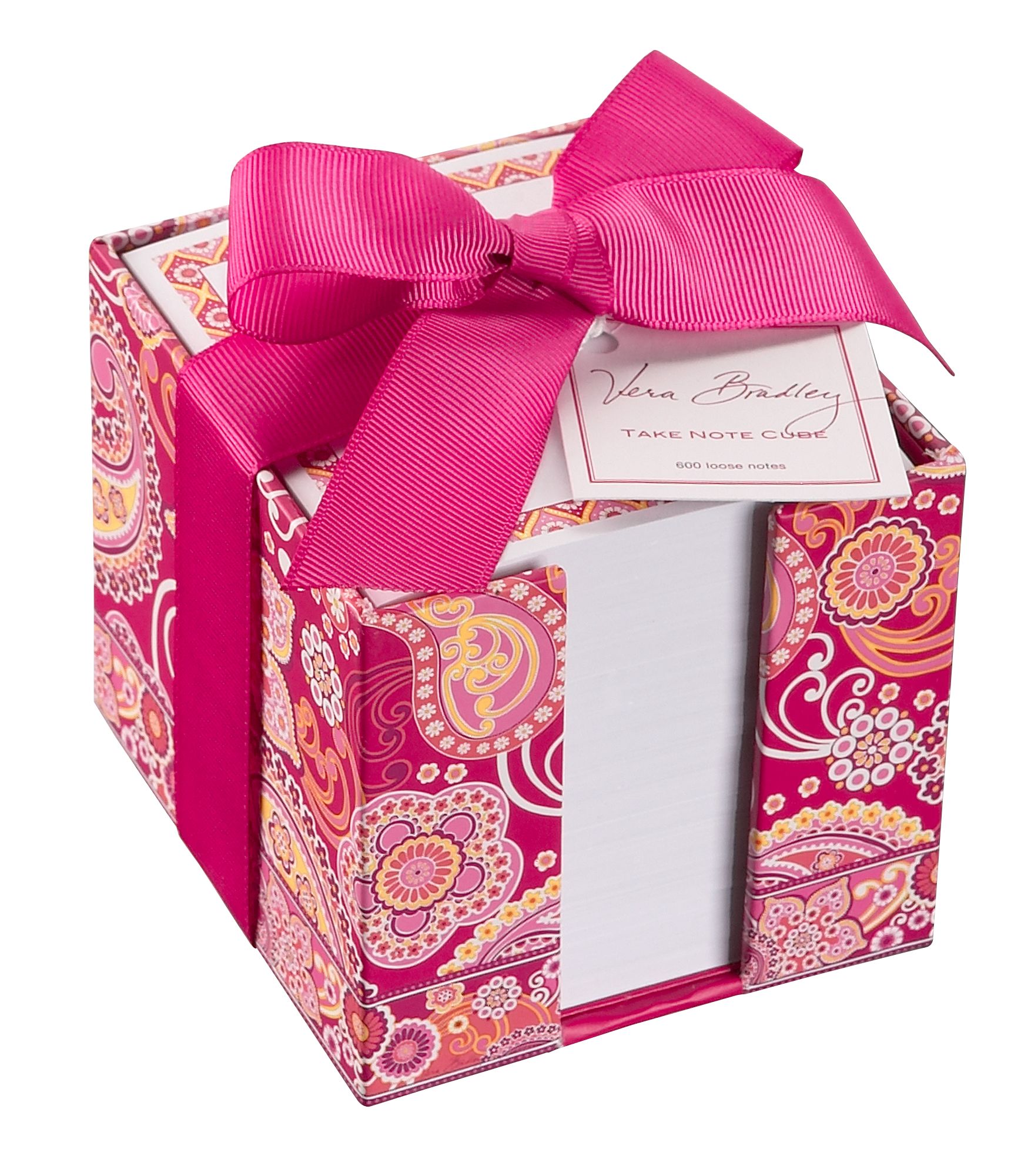 Zitomer on Madison Avenue in NYC has a great website, Zitomer.com, chalk filled with ideas for girlfriends. These little silk Chris Notti sleep masks would be a perfect party favor for all of your gal pals. After all, we need our beauty sleep! $20 in many great designs.
Mom always said to eat your carrots. Now you can shop at carrotandstickpress.com and get your vitamin and shopping boost with their colorful paper goods. I have gifted friends with their offset printed notebooks. There are so many designs to choose from, you will have to buy more than one. At $6.00 each, you can buy them all! They also make good table favors, or just a small birthday present that makes a big impact.
Here's just a few examples of styles and colors.
Do you have a lingerie bag? I don't but I have always wanted one. I think they are especially necessary now for traveling. I mean, do you really want your undies spilling out on the security line conveyor belt? or if you check your bag……..which inspector do you want touching your Cosobellas? lapinvilardi.com has some really beautiful lingerie bags, like the Coco Walk Lingerie Bag. It is pretty, yet modern. Makes a pefect birthday gift or personal bridal shower gift. Don't you think? $36.00
Save 15% on anything at lapinvilardi.com with Coupon Code: XMAS08 Expiration Not Stated but new on November 18th 2008
Want to know a secret? It's Hollywood's stylist and celebrity secret to always looking pulled together. Hollywood Fashion Tape has saved me more than once. It is a clear tape that will temporarily fix a torn him, close a blouse where the button just popped, and more! It is fabric and skin friendly, and easy on the wallet, too, at $6.95! Get one for yourself and one for every friend you have. Buy it at shopmanhattanite.com and save 15% Using Coupon Code: Stylebakery15 until 05/31/08.
Only us girls can appreciate the phrase "Don't Get Your Panties in A Bunch." You know exactly what that means! Dianne Brill does too, and has created Lip Lingerie lip gloss for those days when you are feeling a bit bunchie. In shades that reflect your mood such as: Pearly Panty, Frilly Thong, Sheer String, and more. packaged together in a very giftable box, these mini glosses are sheer genius! So put your big girl panties on and run to BeautyHabit.com. They are the perfect girlie gift at $47.
Give your girlfriend a hand, then give yourself a round of applause for being so clever. These goats milk and glycerin little hand soaps would make any girl smile. Gives a new meaning to the phrase hand soap. 10 come in a bag. $24 at The W Hotel Store. They will be 20% less if you use Coupon Code:XA7T6 by May 31, 2008.
For the Over Forty woman, these Designer Sunreaders are a must! How fun is a day in the sun without a good beach book? If you or your girlfriend needs help reading, these will be a well appreciated gift. $24 from RoomServiceHome.com.
Stephanie Johnson does great bags….cosmetic bags, weekend bags, brush and bottle bags, and more! She also has a celebrity following. Give your girlfriend the star treatment with Stephanie's "Susan" Jewelry Roll. It is contemporary, sleek, and a gem of an idea for bridesmaids, birthdays, or any other gifting occasion. $53 at stephaniejohnson.com
No more stray hairs! Don't you just hate it when you discover a little chin hair while you are out and about? How embarrassing! Delight.com has a delightful gift that will banish those unwanted hairs in a flash. Beauty A Go-Go is a kit that will have you plucking on the go. A darling beauty set that has a compact holding two ultra thin mirrors, and a very cute pair of tweezers. Better yet, the tweezers come with a mirror suction cup, so you always know where to find them! For $28.89, it is a sheer delight! If you purchase anything on Delight.com's for $35 or more, website now until May 27, 2008 use Coupon Code: LongWeekend for Free Shipping.
Here's a yummy idea that will keep your girlfriends on their toes. The Peppermint Patti Pedi is a delicious gift found at KleanBathand Body.com. It's sandal season, but us girls don't need a reason to have a spa experience at home. Inside this perfectly presented present you will find: Devil Made Me Do It Chocolate Sugar Polish, Peppermint Dream Whipped Shea Body Butter, Peppermint Bath Syrup, Peppermint Dream KLEAN Mist, Pumice Stone or Pumice Paddle, Scrub Brush, Toe Separators, and a pair of socks! Eight sinfully delicious items for $55.00! While at KLEAN, take a look at their other all natural products for yourself. This would be a fun idea for a bridesmaid party. I have given this item as a gift, and I can tell you it was well received! Let your fingers do the walking and click on over to KleanBathandBody.com!
We girls love to get cozy! if we can look good while doing it, that is a plus. These Pom Pom Throws from Calypso Celle are just the ticket to comfort and joy. The colors are the best. Think how great they will look on your girlfriends bed, sofa, or chair. $50 at calypso-celle.com
What could be more comforting that a bubble bath, a good read, and a glass of bubbly or wine? Sounds like heaven to me! Delight.com has your answer for a little "me time" for you or a friend. The Sustainable Bamboo Bath Caddy And Wine Holder makes a much appreciated gift. It is adjustable to fit most tubs and promises to adjust your mood, too! $46.50 at Delight.com.
What girl doesn't love a sweet smelling candle? i ran across these Primal Elements Icon Candles at Fredla.com, and thought they were unique and fun with their added bling. Burn time is 65 hours each. They come in scents of Tahitian Vanilla bean, cashmere and amber fragrance, or lily and apricot depending on the style you choose. Fun! $22.00
Save 10% Off Anything at Fredla.com with Coupon Code:  NEWYEARNEWME  Expires:  March 1st 2009