A good tray can be indispensable in stylish entertaining, especially in the summer months, with outdoor entertaining. Think of the uses…… Serving mojitos by the pool, carrying items from kitchen to patio, passing appetizers, getting the beef to the barbecue, and so much more. Here's a round up of some of the best trays around. Serve your guests with style!
The Cerro Round Tray is truly a piece of art! Made from alpaca silver and goat horn…..it will look as lovely on a shelf as it will on your tabletop. $225 at JaysonHomeandGarden.com
Make a black and white statement with this Square Lacquer Tray.  Available in two different sizes…16″ and 22″ and priced from $130 – $220 at lilleashop.com Save 20% with Coupon Code:   Bloom  Expires:  04/15/09
These wonderful wooden trays are versatile and very nicely priced at $22 each! The cut out dise handles make them easy to carry. Bake some Easter cookies or color some eggs……..fill up the tray…..and give it as a hostess gift at your easter party! WestElm.com
Perfect for a garden party or any type of gathering! MacKenzie Child's Courtly Manor enamel and rattan tray is a statement maker. It has been hand painted and woven. I always know a MacKenzie Child's piece when I see one! They are distinctive and so well made. $110 at mackenzie-childs.com

This very colorful tray is delightfully different! It is a reproduction of a Fold Art Game Board……..you will recognize the Parchesse squares and circles. Beautiful used as a serving tray or great hung on the wall! Other game board designs are available at Wisteria.com for $ 64

Textures, style, organic, and aromatic. These Camphor Wood Leaf Trays by Roost are all of that and more. Hand-carved and found at VelocityArtandDesign.com for $40.
Modern and colorful with sleek styling, The Bent Tray by Vivre Selection is stylish serving at its best! Available in five fabulous colors for $175 each at Vivre.com
The above tray is now on final sale for $70!!!!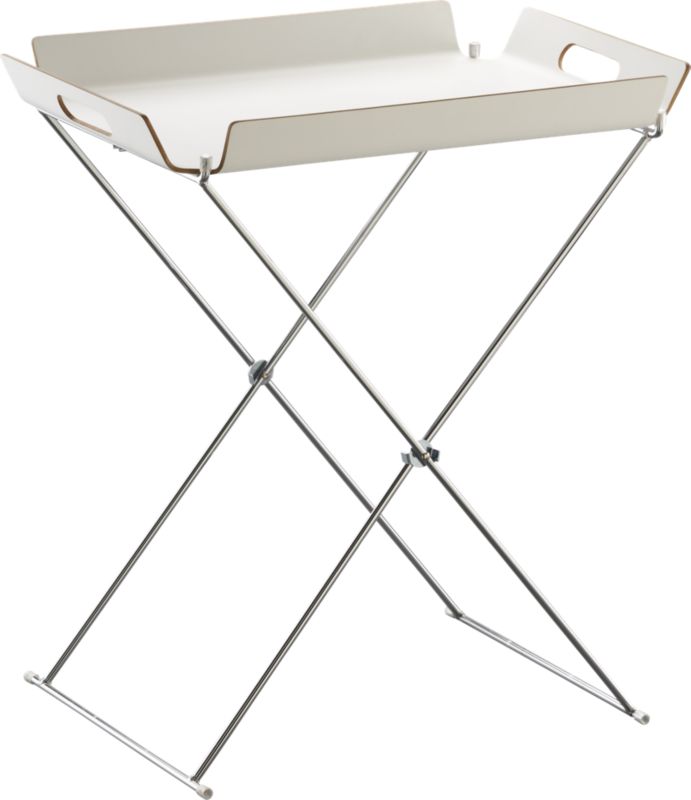 This is one great idea and a beautiful buy at $39.95 from CB2.com The willow wood veneer tray comes in white laquer and is waterproof, too! Serve your guests and then set the tray on the folding legs, then let them serve themselves. Modern service and style for a modest price!
Add a little shabby chic to your decor! This wonderful galvanized tray…..the Sadie… is blossoming with uses. It would look delightful in a little girl's room. Also available in blue at LaylaGrayce.com $66
How fun! Be a bright and bold hostess with the colorful Miami acrylic trays. They will be great for inside or outdoor entertaining. Now on sale for $44.20 each..marked down from $68. cocktailvibe.com
Get Color! These terrific trays are so full of color…..everyday will be a bright one! Distressed and delightful….the Moveable Feast Trays are currently on back order and due in stock 3/13/09. $125 at Sundancecatalog.com
I appreciated the clean modern lines of these Michael Aram Wisteria Trays. The branch handles add a touch of nature inspired detail. Made of nickel plated stainless steel. Small Tray $149. Large Tray $259 at NeimanMarcus.com
How beautiful would your burgers look served on this Asado Wood & Bone Tray by Airedelsur? It is made of algarrobo wood, alpaca silver and bone. Handmade in Argentina and $320 at Tabulatua.com
Two's Company designs some great things. These Lacquered rectangular trays are an example of their spirit and style. Love the bright and bold colors! The trays are nicely displayed above…….but they will also make for fab food service and display as well. $30 at LibaStyle.com
Save an additional 20% with Coupon Code: EXTRA20 Valid until 01/25/09
Stylish serving is what you get with The Resin Gallery Trays from SusanFredmanathome.com. Available in Tangerine or Expresso. When not in use, they are simply stunning when displayed and lit properly. $150 each.
Though simple in design, this Beechwood Laser Cut Tray from Conranusa.com os high on style that would compliment any decor point of view. $175
The John Pawson Square Tray With Insert is for those with a modern point of view and a large budget! The tray is cedar wood and the insert is white lacquer. Both are works of art for the contemporary home. $1100 at fitzsu.com
If you love the shabby chic look…..the sparrow tray is very appropriate for breakfast in bed……..a home for your laptop……or vodka on ice on the veranda. Simply charming for $39 at RoomServiceHome.com
Simple and shiny! These rectangular aluminum trays are perfect for so many uses. Available in three sizes and priced from $10 – $16 at jamaligarden.com
Bring a little fun to your parties! New from Jackie Shapiro is this Multidot Wood Rimmed Tray. The whimsical design will add a delightful dose of color to your service. The base of the tray is high gloss melamine. It is rimmed with a rubber wood varnish frame. Fun for $ 66 at FrenchBull.com